discrimination
DISCRIMINATION, n.
1. The act of distinguishing; the act of making or observing a difference; distinction; as the discrimination between right and wrong.2. The state of being distinguished.3. Mark of distinction.
Since 1999, I've been studying ever deeper, the radical influence our culture suffers at the hands of Liberals.  It started with my conversion to a main stream religion whereupon I noticed the news media were biased against my faith.  Then I noticed their apparent hatred of the U.S. military.  I remembered serving in the Air Force under Ronald Reagan and the dramatic shift of priorities as Bill Clinton took office.  About this time we were attacked again by radical extremist Muslims and this time they managed to topple the World Trade Center.  The press' and the hard left political spectrum's behavior after that event caused me to start blogging on current events and as I blogged I began to investigate in earnest our national history, Christian history, and current events became incredibly important to me because I could find online what the media was either distorting or missing entirely.  Something in our culture was terribly wrong and I was searching for the root of the wrongness.  I thought I'd captured the concept several times, but the evidence wasn't entirely fitting the circumstances I was witnessing.  I also began to notice the same wrong in world news media.  How can the U.N. condemn Israel 11 times and all the rest of the world's nations combined not once, and place Sudan on the U.N. Human Rights Council?  How is this not reported in a way that highlights the wrong in the U.N?  The more I dug the more I realized "I've been lied to my entire life.  Literally everything I thought I knew about political history was 180º out.  At the Left's reaction to the required American response to the WTC attacks, I began to see how history was recorded that way.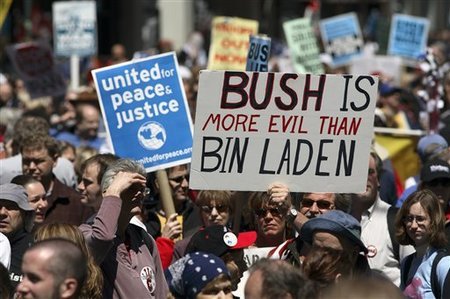 Several years ago I heard a speech via YouTube held at the Heritage Foundation.  At the time I'd never heard the name of the speaker but what caught my eye was the title of his speech, "How Modern Liberals Think."  I used to be a Democrat and switched parties when I realized the Democrats held a bias against my mainstream religion, so my interest was piqued by that title.  I clicked on over and spent the next hour astounded at the clear thinking and articulation of truth I had known but could not explain of current influences in policy making and is inculcated into every venue of information in our culture.  The man didn't pull punches and he wasn't trying to appeasingly reach out to the other side because the other side simply are not reasoning and there is no point in reaching out to the unreasonable.  I connected with this man on FaceBook and messaged him, "Sir, you are awesome.  I've been blogging for years and you've said in an hour what I've been trying to say for all those years."  Since then I've studied his speech closer and have deduced his entire thesis is summed up in one line.  "Liberals' moral imperitive is indiscriminateness because the opposite of discrimination is the suspension of all facts, evidence, reason, truth, morality, decency, and judgment."  They invariably side with evil over good to ensure there is no comparison or judgment which (in their mind) leads to bigotry.  His name is Evan Sayet and he's worked in every medium, print, radio, movies, comedy, news, etc, and though conservative, his talents made room for him on the David Letterman show and the Bill Maher show and plenty of others.  He admits to being heavily influenced by Professor Allan Bloom with his book "The Closing of the American Mind."  If you've read my 'Credible Experts' article, you'll recognize his 'aha' moment in the speech.
Liberals equate evil deeds, groups, nations, and individuals with great deeds, groups, nations, and individuals because to judge one is better than another is a form of bigotry and discrimination.  In the liberal mind, nobody is (and cannot be) any better than anybody, but they will say the better is worse than the worst to bring about the vision they believe.  The Liberal must be a virulent antagonist to everything right, true, good, and beautiful.  Evan's speech is so successful because it is hard to believe so many including seemingly moral, intelligent people can think this way and thus our mind has trouble putting together the conclusion Evan Sayet drew for us.  Yet, with the dots connected the truth of it is irrefutable to the reasonable mind.  It isn't so much Liberals' cognitive processes as it is an auto-response to literal brainwashing indoctrination, to their emotions to pronounced judgments from the religious community, or the scary realities of international politics.  The indoctrination is summed up in a song by John Lennon (Imagine) or another by SuperTramp (Goodbye Stranger) and a book by Robert Fulghum (All I Ever Needed to Know I Learned in Kindergarten).  It is a Utopian vision and rejects everything people have fought, killed or died for in favor of unbelief, commitmentless, boundaryless, judgmentless lifestyles and behavior.  For the Liberal this is how we stop wars and crime.
You see the evidence of it carried out by our Liberal main stream news media with promotional cover stories like The New York Times carrying the American abuses of terrorists 32 straight days when nobody was killed or hurt.  The same goes with the Newsweek report of a non-story in which American troops guarding prisoners were accused of flushing a Koran down the toilet.  Not only is this not a story and never happened, it is an impossible story.  Ever tried to flush a book down a toilet?  What they did was try to prove to the world and especially to the U.S. public "if you thought America was great, here's the evidence to show you America is not great but just as bad as their enemies."
This is the unreasoning mind which is now in control of all our venues of information.  We must take back the schools, the universities, the media, and the entertainment industry.  The entertainment industry indoctrinates starting with Sesame Street going all the way through Queer Eye and beyond to Desperate Housewives and Married With Children.  Ward Churchill and Bill Ayers are rewarded for their extremist views and horrendous reports on America's contribution to freedom and liberty around the world, while conservative professors can make tenure, but are simply not preferred in our state sponsored universities.  Hollywood has done a tremendous job of convincing the world America lives a violent, criminal, hedonist lifestyle and her military is populated by uneducated ear collectors and sadists.
We must begin to enroll in the industries now controlled by this unreasoning prolitareate.  We must begin to offer the public real quality alternatives to each of the industries these brainwashing information service operations.  It has begun with some cable news and print media but that is barely scratching the surface.  The school vouchers may have been an alternative to the state run schools program but that legislation failed and the reality of our culture eliminates the homeschool as a viable option for most parents.  Either charter schools need to be made free or we need the political muscle to scratch the state run school model.  Whatever it takes to get these monopolized industries out of the hands of Liberalism.  We must retake the information venues.  That solves two problems.  Defeating the errors of reasonless Liberalism and provides the opportunity to inculcate our cultural values.